Celebrate Home Assistant's seventh birthday in style with an epic update to Home Assistant Core! The new features and changes in version 0.155 are so extensive, it's hard to believe they all fit into one release. Get ready to experience a whole new level of automation with this milestone update.
Unwrap the ultimate birthday present as we cover the most coveted new features and interface updates in Home Assistant Core 0.155! While this list is subjective, it highlights the cream of the crop. For the full, comprehensive list of changes, be sure to check out the Home Assistant website.
New features to Home Assistant Core
This update is packed with a plethora of new, highly useful features that extend beyond just software, such as the Media Browser. It also includes DIY hardware features that will take your automation game to the next level.
Media Browser for Plex, Spotify, Sonos, and more
I wrote about it in a previous post, and now it's official: Home Assistant finally has a Media Browser. Because I wasn't willing to beta test Home Assistant, I couldn't confirm which services the Media Browser supports. The Media Browser supports Arcam FMJ, Kodi, Philips JS, Plex, Roku, Sonos and Spotify. And as mentioned previously, there is no extra setup required on the user's side.
Home Assistant has posted a video on their YouTube channel for anyone interested in how this feature works and looks. I've got to say, it looks a lot better than I expected it too. The Media Browser will be useful for those who want to manage everything (lights, vacuums, music etc) from a single interface. No longer will you have to open the Spotify app to select a certain playlist, you can do it all from Home Assistant.
The Media Browser can not only cast media to your smart speakers and TVs, it can also play media in the Home Assistant interface. For example, this could be used for viewing captured video from a security camera.
Home Assistant Tags
I've been using NFC tags for my bedtime automation for some time. I set these using a combination of Tasker and Sleep as Android on my Android phone. Unfortunately, connecting Tasker to Home Assistant wasn't the simplest of setups and took quite a bit of trial and error. But that is no longer the case! With Home Assistant Core 0.155 NFC tags are a first-class citizen.
The Home Assistant Companion Apps can now read and write NFC tags, and Home Assistant can use them for automations. The Home Assistant team has even posted instructions on how to build a DIY NFC reader. Using Home Assistant Tags, you can build your very own jukebox and the reader will automatically know on which device to play music.
The main advantage NFC tags or cards have over switches are pricing and versatility. You can buy NFC tags or cards for next to nothing, and they can be read by multiple devices such as dedicated readers and smartphones.
Fewer restarts required
Previously, you had to restart Home Assistant every time you made changes to YAML code. This could get quite tedious. Especially when testing things. For certain integrations, you can now simply reload the YAML in the configuration server control page. This doesn't cover every integration yet, but it is a start that will make testing so much more efficient.
See more in the logbook
The logbook has long been a pretty useless feature for me. Why? Because you couldn't see what script or automation caused a certain light to turn on or media player to start playing. That changes in Home Assistant 0.155. In the logbook, you can now see all of that information.
Changes to the Home Assistant interface
This update doesn't just add new features. There are some significant changes to the Lovelace interface. These changes seem to be focused on usability. You can now do more from the interface without having to resort to coding. And there's a new card!
Customising the Home Assistant sidebar
With this release, it is finally possible to customize the sidebar. Simply click and hold down on the sidebar's header, and you'll be able to not only rearrange the sidebar, but also remove items you don't want or need.
Items you remove will be visible at the bottom of the list. To add them back into your sidebar, you can simply click on the plus icon.

Calendar Lovelace card
There's a new Lovelace card that will be useful for those who use Home Assistant as a dashboard for just about everything. This new card is of course the Calendar Card. This Calendar Card works perfectly with the Google Calendar integration and will give you a nice overview over the current month and highlight days on which you have entries. There are three different view modes: The first will display your month as shown in the screenshot down below, the second will display entries from the current day, and the third is an agenda view for the current month.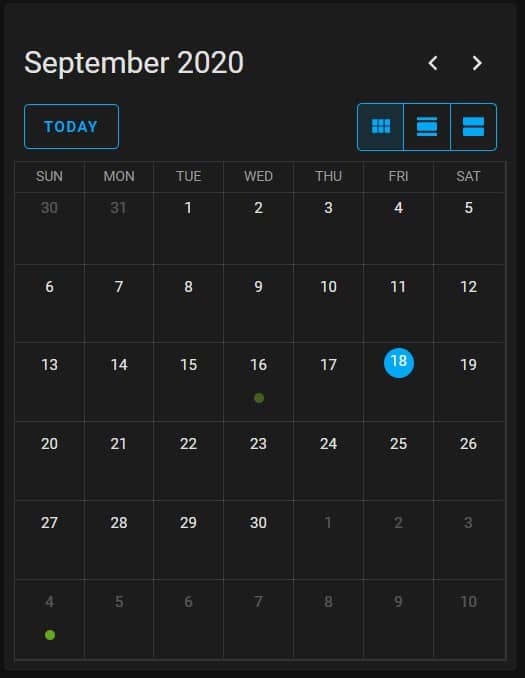 Uploading profile images
You can now upload profile images for your person right from the interface. And you don't have to follow any requirements! The image can be cropped in the interface without having to open any external editor.
Streamlined more info dialogue
The more info dialogue which pops up when you click on any device in your Lovelace interface has been updated. If a device has controls (e.g. lights and media players), there will be two panels visible: One will display the controls and the other will display history and a list of logbook entries.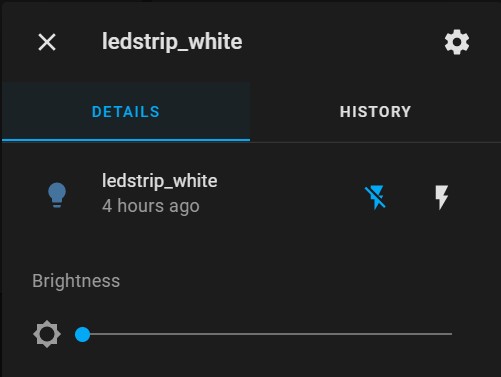 Wrapping up
The changes detailed in this article are just those I hand-selected. There are many more which might be relevant to you and your setup. As always, I suggest you go through the complete changelog on the Home Assistant website.
A word of caution
Most updates also bring with them a list of breaking changes. This one is no different. Go through that list and make sure you address any issues you might have. It is also frequently suggested in the many Home Assistant communities that you wait for a follow-up to a big update such as this one. If you want to experience all the new things immediately, you're free to install this update. But if stability is important for you, wait for the follow-up updates.