The Elgato Stream Deck is a popular product for gamers and especially streamers. Instead of having keys with an icon or letter printed on to them, the Stream Decks uses a series of LCD screens behind buttons to display various applications, shortcuts, and macros.
Sounds like the perfect platform to display Home Assistant actions on, right? Luckily, developer Christoph Giesche on GitHub has developed a plugin, which they simply call streamdeck-homeassistant, that does just that.
Recommended
Elgato Stream Deck MK.2
As I don't own a Stream Deck, I couldn't personally test this plugin and I am relying on Reddit comments as well as the GitHub repository. I'm reporting on this plugin as I didn't want such a useful tool to go unnoticed.
How Home Assistant actions on a Stream Deck work
Besides being able to toggle switches and actions, the Stream Deck can display values from sensors, which are stored in Home Assistant, on its buttons. Temperature, humidity, pressure, power, battery level, and weather sensor will already have a preconfigured icon. The same goes for switches, lights, and binary sensors.
The code for this tool was purposefully kept very generic, which should allow you to display just about every sensor and action out of the box. The author of the Home Assistant plugin for Stream Deck has uploaded an image of how such a setup could look like (don't be put off by it, there are many reflections in the image).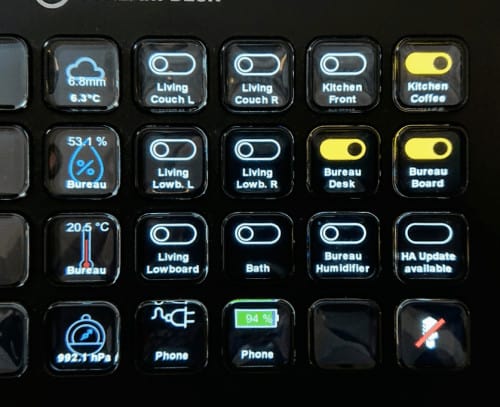 You might have seen other ways of doing something similar with your Stream Deck, but this plugin is most likely better than everything else as the icons are dynamic and not just static. You will see whether a certain light is on or off by the colour and position of the toggle.
How to set up streamdeck-homeassistant
To set up the Home Assistant plugin for the Elgato Stream Deck, you will need to have your Stream Deck connected to your computer and installed the Stream Deck drivers and application. I'm assuming most of you will have already done that.
Next, you will want to download and install the streamdeck-homeassistant plugin from GitHub. From the files downloaded, you simply have to open the .sdplugin file and it will be automatically added to the Stream Deck application.
Before being able to place any switches or sensors, you will have to connect the Stream Deck plugin to your Home Assistant. This is done using a long-lived access token, and you can do so using your local IP and port or your public URL. Once saved, streamdeck-homeassistant will automatically attempt to connect to Home Assistant and if successful, you will be able to configure your entities in the appropriate settings. More details on how to configure the entities can be found in the project's readme.