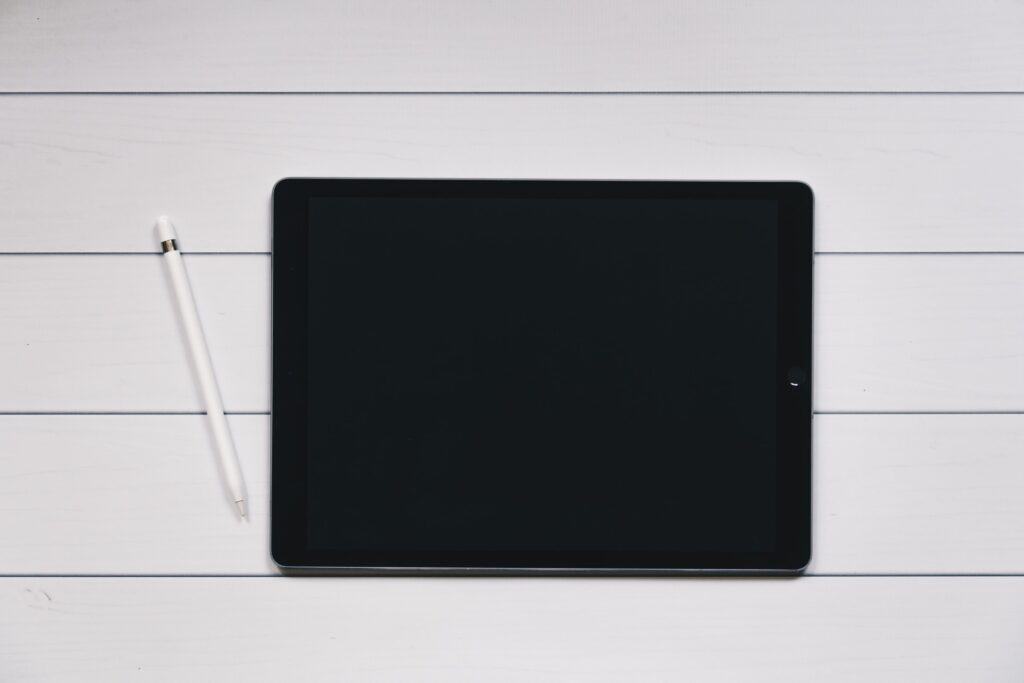 In the world of smart home automation, having a dedicated wall-mounted tablet for controlling and monitoring your Home Assistant setup is a game-changer. It eliminates the need to constantly use a computer or smartphone. This article dives into the best tablets specifically for wall-mounting and displaying your Home Assistant dashboard, offering expert insights and recommendations.
Why a Wall-Mounted Tablet for Home Assistant?
Home Assistant enthusiasts often contemplate integrating a wall-mounted tablet for enhanced control and visibility. These tablets not only display the attractive Home Assistant Dashboard but also provide a view of security cameras and other smart devices. The ideal tablet will blend into your home decor while offering robust functionality and interactivity.
Top Selection Criteria for Home Assistant Tablets
The best tablets for wall-mounting should be discreet with minimal branding, offer seamless wall integration, and focus on the display content and user interaction rather than the device itself. Depending on what model you purchase, a tablet can give you a bunch of added functionality, which you can further use in Home Assistant. A tablet will typically have a bunch of accessible sensors and most likely a camera or two. Why not use them?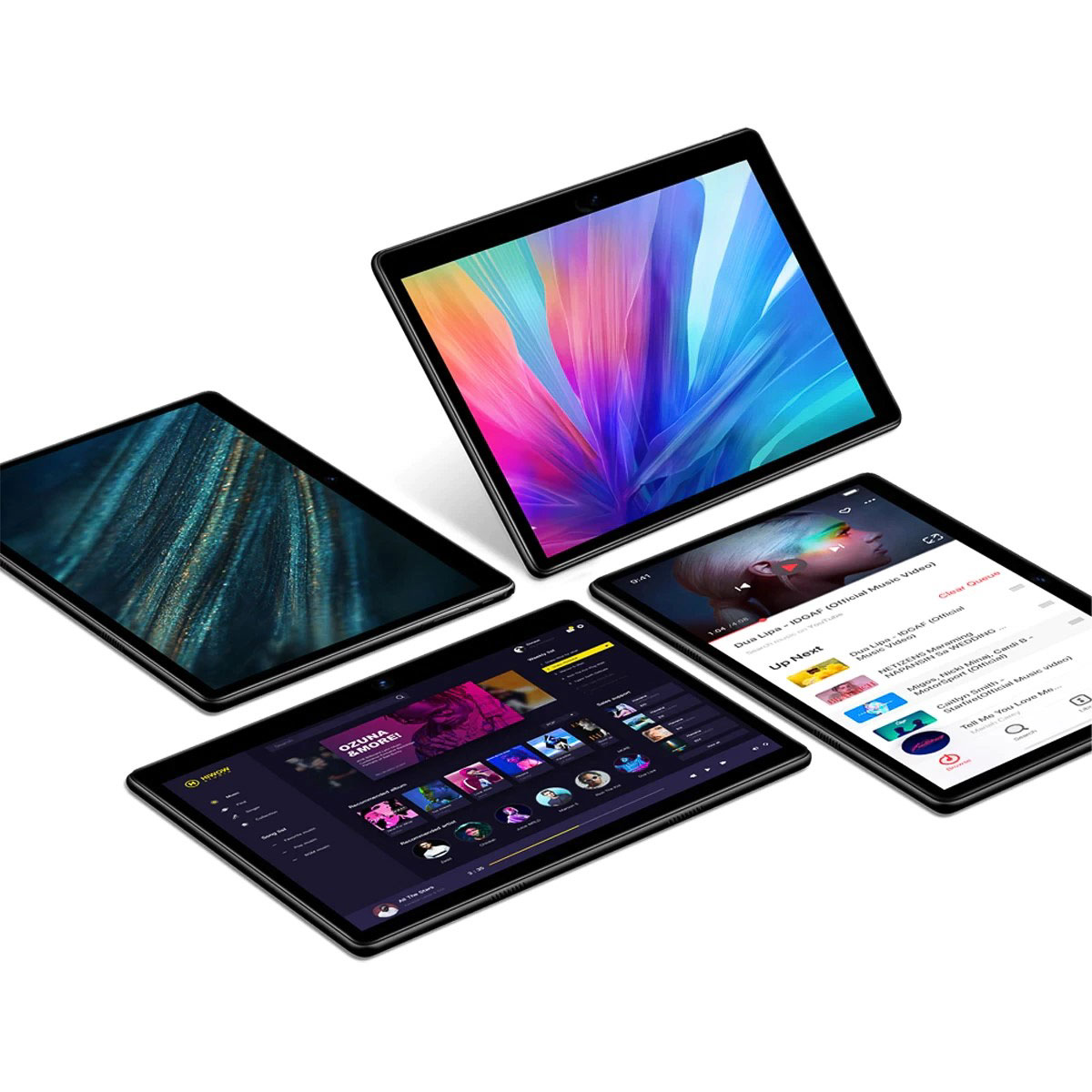 Addressing the Drawbacks of Budget Tablets
While the allure of inexpensive tablets from Chinese marketplaces is strong, there are concerns. Issues such as uncertain after-sales support, lack of software updates, and negligible cost savings compared to reputable brands like Samsung and Amazon's Fire tablets need to be considered.
Amazon Fire HD 10 and Fire HD 10 Plus
Amazon's Fire HD 10 and Fire HD 10 Plus tablets are cheap and have good-looking 16:10 Full-HD displays (1920×1200). At 10.1″, it is just about the perfect size for the Home Assistant dashboard, and the screen's bezels don't have any branding printed on them, making it clean looking. At this size, you will still be able to clearly see all of your card's details and switches will not be too small to press. With it's 16:10 aspect ratio, which is slightly taller than your standard 16:9 widescreen display, the Amazon Fire HD 10 tablets are suitable to be mounted horizontally.
In 2021, the Amazon Fire HD 10 received some very welcome updates and a new Plus model. It now features USB-C charging and, if you opt for the Plus version, Qi wireless charging. The only other differentiator between the Plus and non-Plus model is that the more premium model has a total of 4 GB of memory, 1 GB more than the non-Plus model. If all you are planning to do is display your Home Assistant dashboard, the cheaper model will likely be more than powerful enough.
Reviewers have praised this tablet's performance, battery life, screen, and practical design. The major downsides seem to be related to the Fire HD 10's software. As a wall-mounted tablet, you will most likely not be seeing much of the underlying OS itself, so that shouldn't be an issue for that use-case.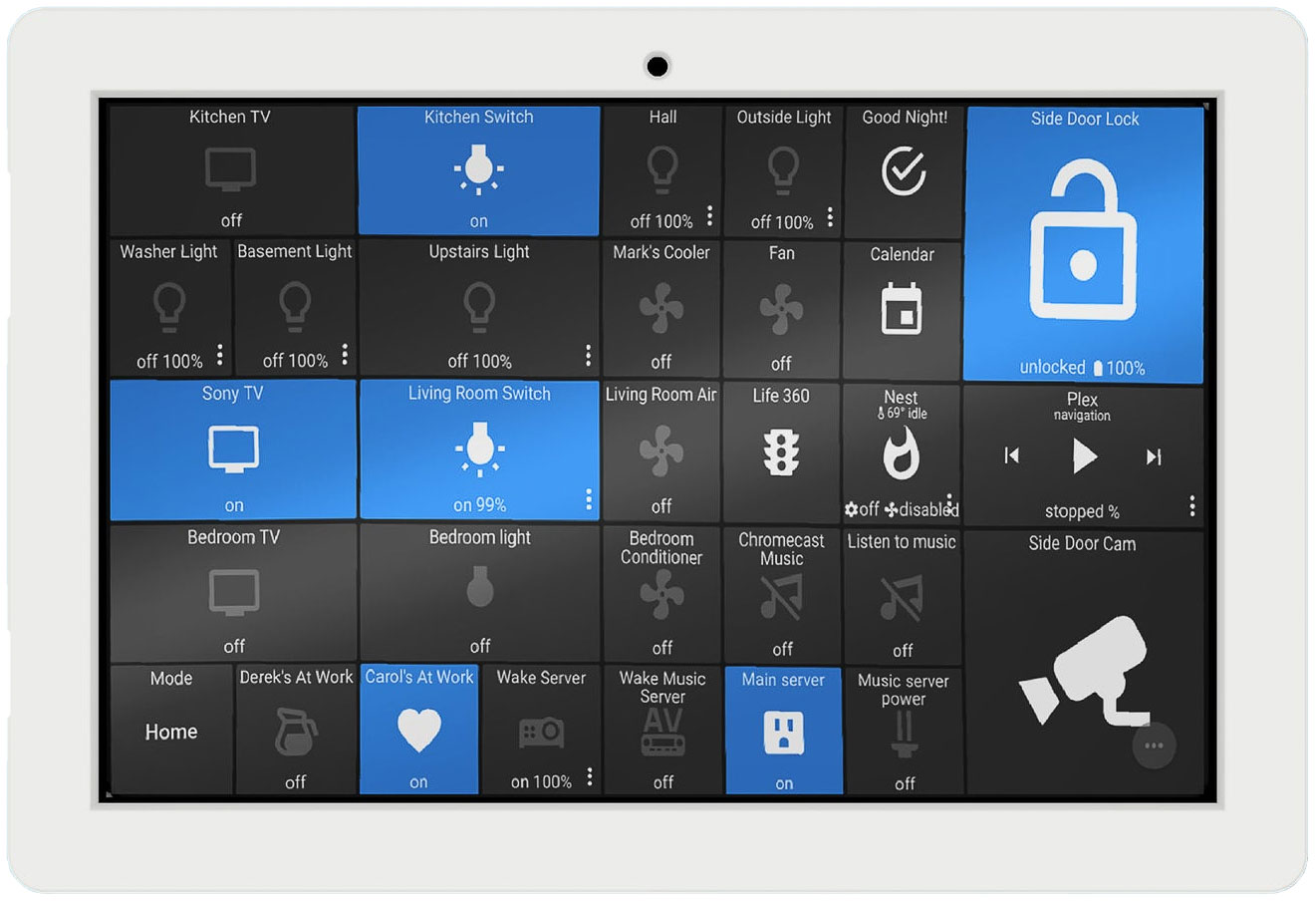 When using an Amazon Fire tablet, I recommend side-loading or installing the app WallPanel. This not only allows you to display your Home Assistant dashboard in full-screen, but gives Home Assistant full access to your Amazon Fire HD's sensors! That way, you can use the tablet itself as a security camera, it can speak notifications, and it can turn off the screen when no motion is detected. Alternatively, you can follow these instructions and install the Google Play Store on your Amazon Fire tablet. That will provide you with access to the Home Assistant app.
Amazon Fire HD 8 Plus
If you don't want to wall-mount your tablet or 10.1″ is too large for your liking but prefer to keep its portability, the Amazon Fire HD 8 Plus might be a decent alternative to its larger sibling. This tablet can also do an excellent job at controlling and monitoring Home Assistant.
Because the Fire HD 8 Plus supports wireless charging and comes with a nice looking charging dock, you can place just about anywhere you like. The advantage of doing things this way is that you can easily carry your tablet around with you.
As with the Fire HD 10, the Fire HD 8 Plus tablet has a crisp screen and needs a little work before it can be used as a fully functional Home Assistant dashboard. Furthermore, just like the Fire HD10, it doesn't have any branding on the symmetrical screen bezel.
With the arrival of the Amazon Fire HD 10 and Fire HD 10 Plus, the Fire HD 8 Plus is no longer better specced than its larger sibling. Though the 8″ model does also have 3 GB of memory, the MediaTek MT8168 that powers it is significantly slower. The larger model also has a sharper screen at 224 ppi, compared to 189 ppi.
As with all Amazon Fire tablets, the main criticism to be found is related to its operating system. Or, to be more specific, to the app store included as part of the OS. Compared to the Google Play Store, the FireOS Appstore is limited. However, if you are planning to only use it for your Home Assistant needs, this shouldn't be an issue.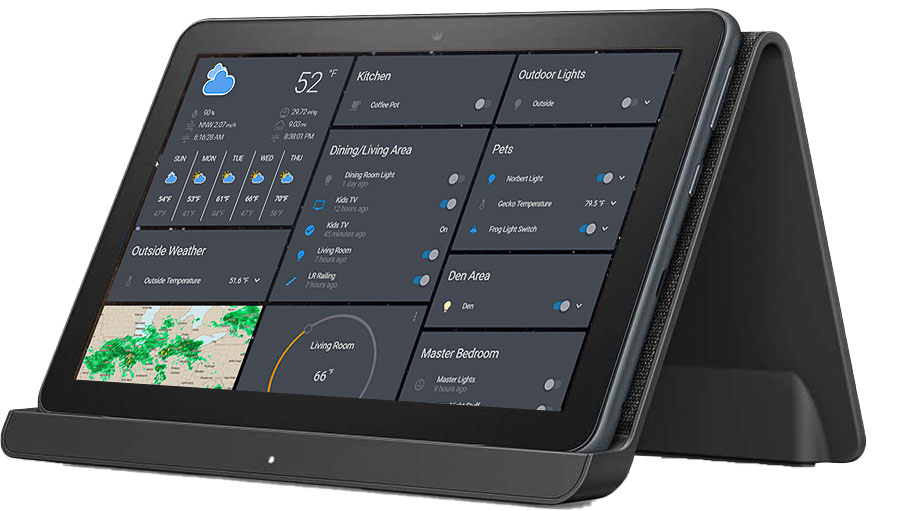 Samsung Galaxy Tab A7 (10.4″ and 8.7″) and Tab S6 Lite
The Samsung Galaxy Tab A7 series of tablets are cheaper than the premium Galaxy Tab S series, but have more than enough power to display the Home Assistant dashboard. As we have come to expect from Samsung, these tablets have more than just decent screens, and narrow bezels (without any branding). Sadly, but also expectedly due to the pricing, the Tab A7 series does not use Samsung's fantastic OLED screens, but instead use LCDs.
I consider the 10.4″ Samsung Galaxy Tab A7 and Tab S6 Lite to be the best Android tablets to wall-mount and display Home Assistant on. They each have a good high-resolution screen and enough power to run the Home Assistant app, alongside a few others in the background, without any performance hiccups.
The benefit of using a Samsung tablet over the Amazon Fire tablets is that these come with fully-fledged Android and have access to the Google Play Store without any workarounds. Because these tablets run Android, you will also be able to use them to talk to the Google Assistant. Thanks to Samsung's new and improved Android update policy, the Galaxy Tab A7 will receive Android 12.
The Samsung Galaxy Tab A7 Lite features a smaller screen (8.7″), and weaker SoC when compared to its larger sibling. While the MediaTek Helio P22T isn't necessarily bad, it isn't as powerful as the Snapdragon 662. Performance isn't the only downside of going for a MediaTek SoC. MediaTek has short support cycles and their SoCs are difficult to programme for. There have also been some severe security issues related to their SoCs. Overall, you are likely to get more out of the Galaxy Tab A7, as it has already been unlocked and rooted.
While Samsung does offer a premium tablet with a nicer OLED display in the Galaxy Tab S7+, it might be wasted for just this purpose. The other disadvantage OLED screens have, is that they can suffer from burn-in when displaying the same thing for extended periods.
Finally, the Tab S6 Lite, announced roughly half a year before the comparable Tab A7, should definitely also be considered. When on offer, it can be had for a similar price, with the main difference being that the Tab S6 Lite supports pen input and even ships with an S Pen. Design and spec-wise the two tablets are almost identical, with the Tab A7 basically being a Tab S6 Lite, but with the Snapdragon 662 instead of the Exynos 9611. Just as the Tab A7, the S6 Lite will receive the update to Android 12.
Lenovo Smart Tab M10 and Tab P11
Lenovo does not have the best reputation when it comes to keeping their phones and tablets up to date, but there are two models I can cautiously recommend: The Lenovo Smart Tab M10 and the Lenovo P11. Similar to the Fire tablets mentioned earlier, both of these tablets can be fitted in to a Smart Charging Station, making them perfect as semi-permanent Home Assistant displays. While they definitely aren't the best tablet to wall-mount and display Home Assistant, the charging station does give those not wanting to drill any holes a decent option.
The Lenovo Smart Tab M10 is the cheaper of the two, and you don't have to dig very deep to find out why: Its 10.1″ screen only has a resolution of 1280×800. There is only 2 GB of RAM available to the system, which is powered by a MediaTek Helio P22T SoC. What it does have, are very slim bezels with no branding on them. The Lenovo Smart Tab M10 ships with Android 10 and should be updated to Android 11 around the time Android 12 will make its first stable appearance. On a more positive note, security updates should be provided until the beginning of 2023. There is also a Smart Tab M10 FHD, which I don't recommend, as it will stay on Android 10.
The Lenovo Tab P11 has a large 11" screen and a much nicer resolution of 2000×1200. It is powered by a Snapdragon 662 SoC and has a large, 7700 mAh battery. There is also a Pro version, which is nothing like the P11. It has a Snapdragon 730G SoC, 6 GB of memory, and an 11.5″ 2560×1600 OLED screen. Unfortunately, the price is already in iPad territory, but nothing will look better than a high-resolution OLED screen. Both tablets will receive Android 11. Make sure you order the right P11 tablet, though, as the Plus version will not be updated and uses a MediaTek SoC.
DIY Option: Raspberry Pi and Touchscreen
For those wanting to build their own wall-mounted dashboard, there is the option of buying a Raspberry Pi and hooking it up to a compatible touchscreen. While technically not a tablet, this DIY solution does have some advantages:
You don't have to worry about the battery swelling due to it being plugged in 27/7.
Other Linux applications, such as room-assistant, can be installed and run in the background. If you want multiple displays, you can use them for room-level presence tracking.
Updates aren't an issue as you can update the Raspberry Pi on your own and aren't reliant on any vendors.
SunFounder, a Chinese company specializing in STEM education products, makes several IPS touchscreens specifically for the Raspberry Pi. You should be aware, that not all of them are equal. For example, they sell two 10.1″ screen for the Raspberry Pi and one is touch-enabled while the other isn't.
The 10.1″ screen featured here does support touch input and can also power some, but possibly not all, Raspberry Pis. The reviews on SunFounder's website claim it has enough juice for the Raspberry Pi 4, while other reviews say it can't even power the Raspberry Pi 3 Model B+.
There is also an official 7″ touch screen display for the Raspberry Pi, but it isn't the best. SunFounder's equivalent has a higher resolution, and I, personally, wouldn't consider 800×480 sufficient for the Home Assistant dashboard.