The Creality Ender 3 and its successor, the Ender 3 V2, are two of the most popular 3D printers for those creating their own, customized ESPHome projects. The upcoming Ender 3 S1 is an upgrade to the Ender 3 V2 and — this is where it gets interesting — is much more user-friendly. Not everyone wants to spend a weekend putting together a 3D printer before a project can be printed. If that strikes a chord, this addition to the Ender 3 family might just be what you are looking for.
Creality Ender 3 S1 FDM 3D Printer
Dual-Gear Direct Drive Extruder: Compatible with many filaments, the Ender 3 S1 3d printer can print PLA, TPU, PETG, ABS, and more. The extruder is lighter, has less inertia, and more precise positioning.
CR Touch Auto Bed Leveling: Upgraded CR Touch 16-point automatic bed leveling technology saves you the trouble of manual leveling.
Removable Spring Steel Print Sheet: The Ender 3 S1 comes with a removable PC spring steel platform. The innovative printing platform is a combination of a PC coating, a spring steel sheet, and a magnetic sticker, which sticks to the surface immediately when released.
The Ender 3 S1 is not official yet, nor do we know of any definite release dates, though it expected to go on sale around the turn of the year. I sourced the information provided in this article from a video uploaded by the 3D printing shop AzureFilm and a subsequent written article. While the video has been taken down for possibly violating an NDA, the article remains online until now, for reasons unknown to me.
Table of Contents
Assembling the Ender 3 S1 in 10 minutes
For those out of the loop, the ever-popular Ender 3 and Ender 3 V2 do not arrive fully assembled at your doorstep. By doing so, Creality can keep the prices low. It will take you a couple of hours of work, before you've got anything resembling a 3D printer. It doesn't stop there. Once you have put your machine together, you will need to level the bed if you want a chance at getting good prints.
The Ender 3 S1 should be much easier to assemble, with Creality claiming just ten minutes of work will do. It will also come with a CR Touch , Creality's automatic bed leveller, preinstalled. Although this feature isn't unique to the model, and you can easily add a CR Touch or BL Touch to your Ender 3 and Ender 3 V2 retroactively, the S1 spares you that work.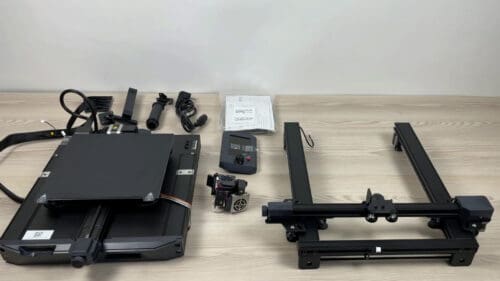 The Ender 3 S1 replaces Bowden with direct drive
The extruder is what pushes the filament to the heated nozzle, where it melts, and gets extruded. Fused deposition modelling (FDM) 3D printers use one of two possible extruder types: Bowden or direct drive. It is undeniable that direct drive extrudes are superior to Bowden extruders, as the path the filament has to take is much shorter. They are more likely to give good results, and can provide a higher resolution. Manufacturers still use Bowden extruders in cheaper 3D printers, due to their lower price-point.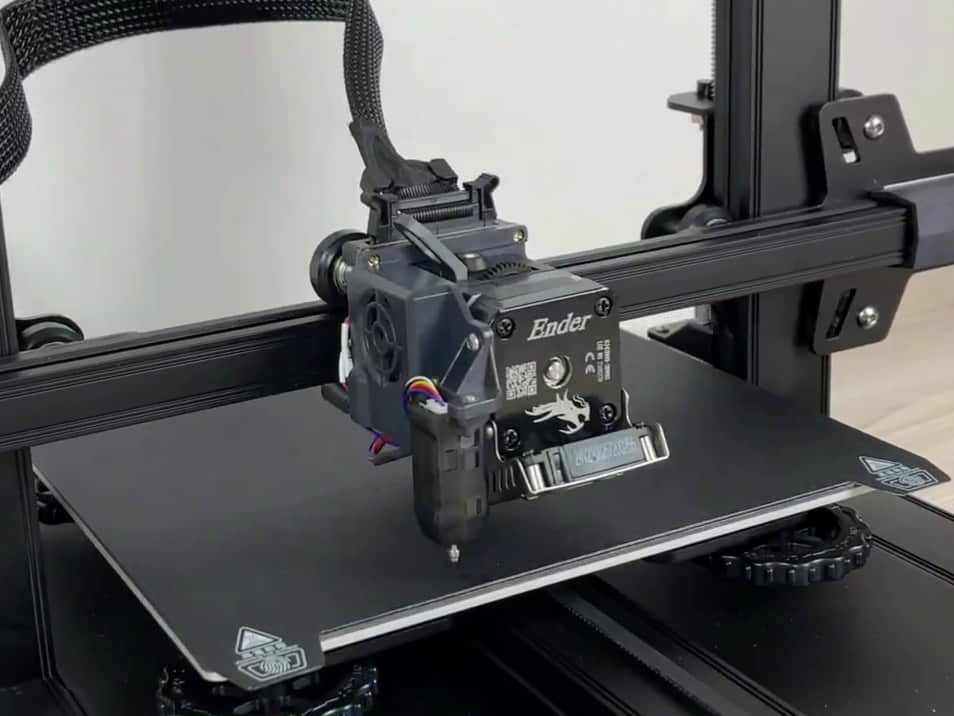 Creality Ender 3 S1 Pro FDM 3D Printer
High-temp nozzle: The Ender 3 S1 Pro comes with upgraded brass nozzle which can heat up to 300 °C.
All metal direct drive extruder: The upgraded direct drive extruder comes with the pushing force up to 80 N. It is capable of smooth feeding and discharging of filaments without slipping and works extremely well when printing flexible filaments like TPU.
Print big: A build volume of 220 × 220 × 250 mm is large enough for most small to medium-sized objects.
With the Ender 3 S1, Creality is finally employing a direct drive extruder in place of the Bowden extruder found on the Ender 3 and Ender 3 V2. This upgrade should give the Ender S1 the ability to create nicer prints. As with most of the upgrades mentioned in this article, it is possible to fit the Ender 3 and Ender 3 V2 with a direct drive extruder of your choice. But if you go with the Ender 3 S1, you won't face a minute's work.
No more CR Touch retrofitting
Another addition that will make life easier is the preinstalled CR Touch. This little device allows your 3D printer to automatically level its bed, making sure everything is set up correctly before printing. Compared to auto-levelling sensors with a plastic tip, the CR Touch, with its metallic probe, is more durable and faster, as it uses an optical sensor.
Creality CR Touch Auto Leveling Kit
Metallic probe: The CR Touch has a positioning accuracy of ≤0.04 mm and can be reused for more than 100,000 times
Compatibility: Ender 3 V2, Ender 3 Pro, Ender 3, Ender 3 Max, Ender 5, Ender 5 Pro with 32 Bit V4.2.2/V4.2.7 mainboard
Easy to install: Download and copy the CR Touch program to an SD card and power on the 3D printer to update it
Another sensor included in the package is one that checks if your filament has run out. Filament running out during a print has been the cause of many frustrating moments, as it frequently means you will need to start from scratch. The filament run-out sensor on the Ender S1 will signal to the printer that it should stop once it detects that no more is coming. You can then install a new spool and the printer should continue where it left off.
Two motors to move the Ender 3 S1's printing bed
The printing bed on every 3D printer, which has once again been improved on the Ender 3 S1, is moved back and forth by a Z-motor. Or, as is the case on the Ender 3 S1, two Z-motors. The issue with having just a single motor, which is the case on the current Ender 3 printers, is that the surface can begin to sag, once a print reaches a certain weight. The Ender 3 S1 with its dual motors, which each drive a threaded rod, should have no such problems.
The build plate, which is on the printing base and ensures that the print adheres nicely, has been improved with a PEI sheet. PEI requires no preparation before use, or so it is claimed, and has all the properties you would be looking for in a build plate: radiation resistance, high and low-temperature resistance, high-temperature stability and high wear resistance.
When can I buy the Ender 3 S1 and how much will it cost?
The Creality Ender 3 S1 should make its first appearance on shelves towards the end of this year or early next year. It has been listed for €359, which will likely translate to US$350. With the Ender 3 V2 sometimes going for as little as US$250, the Ender 3 S1 is in another price class. However, were you to upgrade the Ender 3 V2 to the Ender 3 S1's specifications, you would likely be looking at a similar price.
Why is 3D printing important to the Home Assistant community?
The Home Assistant community is made up of people from all walks of life. One thing many have in common is the love for creating and customizing hardware. ESPHome has been something of a gateway drug to the world of cheap electronics and custom-builds. A 3D printer allows you to make your creation look somewhat professional, and it expands the possibilities of what you can do.