How do you like to adjust the brightness of a light? By repeatedly mashing a button, or by gradually turning a dial. I think I'm not alone in saying that I would pick the latter option any day of the week. Philips has so far resisted the urge to make a remote featuring a dial, despite dimmers for dumb lights having this option since forever. As of now, that is no longer the case, as Philips has released the Hue Tap dial switch.
Table of Contents
Natural dimming using the Hue Tap dial switch
The round Hue Tap dial switch features four buttons and a dial around surrounding them. It is powered by a single CR2032 button cell battery, and it can be magnetically to a backing plate, which in turn can be stuck on a wall. One thing I noticed is that Philips seems to be using different backplates, depending on the region. Here in Switzerland, where standard light switches and wall sockets are square, the backplate is square. In the USA, the backplate is rectangular.
Available in both black and white, the Philips Hue Tap dial switch is already on sale for €49.99/US$49.99. Although the listing on the Philips Hue site prices it at US$69.99, the press release promises the lower price. It currently isn't available from Amazon, but a Swiss store is selling for CHF57.40, which would hint that a price closer to US$50 is more likely.
The new Hue Perifo lighting system
What could turn out to be a game-changer for many is the recently announced Philips Hue Perifo lighting system. The system relies on either wall- or ceiling-mounted rails, to which you can attach pendant lamps, spots, light bars, and/or a gradient tube. The complete system will be available in either black or white, and wall-mounting is also an option.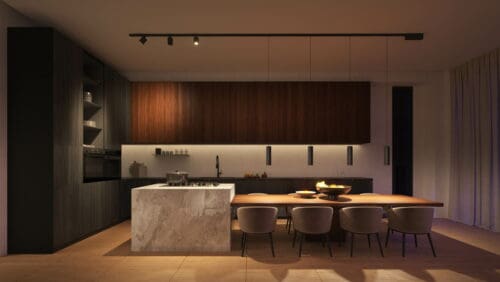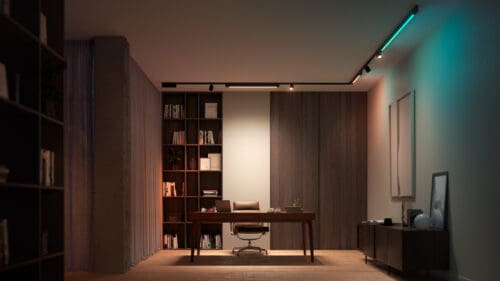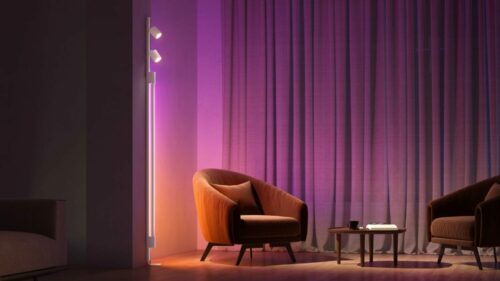 The rails deliver power to the lights, which can thus be placed anywhere along it. When ceiling mounting the system, any existing lamp connection can be used, though in both cases a power supply is required to deliver the 24V the system relies on. Each power supply is capable of driving up to 100W, which is enough to power 19 spots.
The rails, which are available in 50, 100, and 150 cm lengths, can be attached to either end of the power supply (and judging by the images, you can also attach one at either end). To add to the creativity, the Perifo system offers, you can connect ceiling rails using corner and straight connectors.
Philips will launch the Hue Perifo lighting system towards the end of Summer 2022 in Europe, with no date given for the Americas. The system isn't cheap, but it is certainly eye-catching:
Hue Perifo rail black or white: €49.99 - 89.99
Hue Perifo connectors black or white €19.99 - 29.99
Hue Perifo PSU wall or ceiling: €99.99
Hue Perifo track lights: €119.99 - 299.99
Hue Perifo ceiling mounted set (three pendant lamps in black or white): €649.99
Hue Perifo ceiling mounted set (four spots in black or white): €749.99
Hue Perifo ceiling mounted set (three spots and one light bar in black or white): €799.99
Hue Perifo wall-mounted set (three spots wall lamp in black or white: €649.99
Hue Perifo wall-mounted set (gradient tube in Black or White): €799.99
The Philips Hue Go portable table lamp lets you take your smart light with you
The final product that deserves to be highlighted is the Philips Hue Go portable table lamp. As the name suggests, this table lamp is portable, thanks to an integrated battery which can power it for up to 48 hours. According to the packaging, Signify (who produces the Hue lights) built this lamp to be taken outdoors, though I couldn't find any reports on an IP-rating. It features a silicon grip, to help you carry it about, and a dedicated charging base.
The Philips Hue Go portable lamp will launch towards the end of summer in both the US and Europe for €149.99/US$159.99.