SONOFF's NSPanel is the kind of tech many pictured the future smart home to include. No more light switches, in their place are easy-to-use touchscreens that can control more than just a single light. The DIY and Home Assistant community took a fancy to the SONOFF NSPanel after discovering its hackability. While it does require some disassembly, the whole process of flashing the NSPanel with ESPHome can be achieved in roughly half an hour with minimal tools required.
SONOFF has now taken the wraps off the next generation NSPanel: the NSPanel Pro. The name would suggest that this isn't a replacement for the first generation product, but will instead be sold alongside it as a more premium option. While this device does once again look interesting to users of Home Assistant, there are many questions that will need to be answered before anyone should consider buying it.
So long ESP32 and ESPHome, welcome ARM and Android?
It would appear that a number of creators and influencers already have an NSPanel Pro in their possession, one of which has let slip an intriguing titbit: the NSPanel Pro runs Android. As an ESP32 can't and won't ever be able to run Android, it's safe to assume that it has been replaced with an ARM system on a chip. In fact, SONOFF has already revealed that it is powered by four cores, which rules out the ESP32, as it only has two. A more powerful chip running Android will be able to produce deeper colours and a more pleasant image.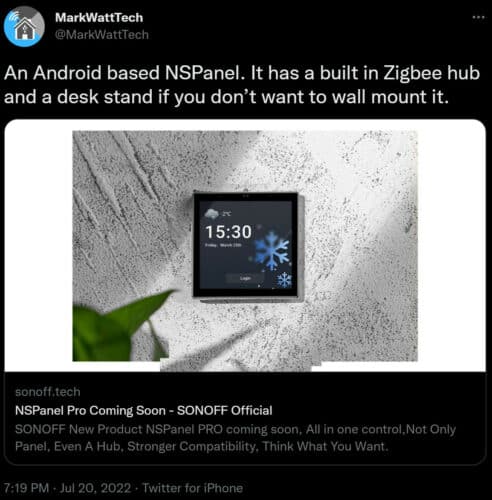 This coincides with the fact that there is no 3.95 in display from Nextion, which is owned by the same parent company, which is the NSPanel Pro's screen size. While Nextion screens are great for low-cost products, I'm assuming the NSPanel will use a more premium option. What technology it uses is still an unknown, but I know I wouldn't mind seeing the deep blacks an OLED screen produces to make it blend perfectly.
SONOFF NSPanel
SONOFF NSPanel centrally integrates HMI control, smart temperature control, and smart wall switch, turning your home into a convenient and smart place.
The consequence of it using Android is that you won't be able to install ESPHome on the NSPanel Pro. SONOFF does explicitly mention Home Assistant integration in the details they have so far released. How deep the integration goes is, however, unknown. Will you be able to use your own weather provider? Will you be able to map your Home Assistant scenes to any of the shortcuts? Once reviews start coming in, we will hopefully know more. I wouldn't be surprised if the NSPanel Pro were to become the first member of the Works with Home Assistant program.
Built-in microphone, speaker, and light sensor
Also added to the Pro version are a built-in microphone, speaker, and an ambient light sensor. Presumably, the speaker will be used as an alarm, but SONOFF also mentions the possibilities of using it as an intercom and alarm clock. I would have loved to see a motion sensor included in the array. However, in a Facebook comment, SONOFF has revealed that a motion sensor can be added externally to the NSPanel Pro. How exactly that will work was unfortunately kept secret. I haven't been able to spot any connectivity ports on the device, so I'm assuming they mean you will be able to connect any sensor using the built-in Zigbee controller.
The NSPanel Pro in the USA, Europe, and on your desk
Other specs include the already highlighted 3.95 in screen, which will be your only way of interacting with the NSPanel Pro. It might not sound like much, but it will be a noticeable upgrade from the 3.5 in screen on the basic NSPanel. What won't please all, is how SONOFF made room for the larger screen: they removed the two physical buttons which previously controlled the relays, to which lights can be connected.
Light switches are still favoured by many, as they provide instant haptic feedback to the presser. Judging by the five wire terminals on the back side, the NSPanel Pro will most likely still be able to directly control two lights, but these will only be accessible using the touch interface.
One thing that will definitely be viewed as a downgrade over its predecessor, is the absence of a separate size for the USA. This time around, customers will be required to use a backplate to make it fit in nicely with their existing light switches.
SONOFF doesn't envision the NSPanel Pro to just be fitted in walls. There will be an official stand available that allows it to be placed on a desk or any other flat surface. Of course, if you have a 3D printer at home, you could already do this using one of the many freely available models for the NSPanel.
Zigbee 3.0 with a possibility of Matter
The final bit of exciting news is that the NSPanel Pro can function as a Zigbee 3.0 hub. It will still connect to your local network using Wi-Fi, but it will be able to connect to any device that uses the Zigbee standard, and is not just limited to SONOFF devices. What hasn't been explored yet is whether the NSPanel Pro can act as a repeater for Zigbee2MQTT or ZHA.
Perhaps more interesting is again something that SONOFF revealed in a social media comment: There is a possibility of adding Matter to the NSPanel Pro, once the standard finally launches. Whether this means that the Zigbee chip inside it is also capable of acting as a Thread Border Router is unknown, as no specifications have been released.