Roborock, the Chinese maker of robot vacuum cleaners, has unveiled its latest and greatest creation at CES 2023: the Roborock S8. Roborock has always been a step ahead of the competition, having introduced features such as sonic mopping and reactive 3D obstacle avoidance. While Amazon's iRobot also started including these features, they always had one major advantage over Roborock: a patent on the dual brush system.
Today that changes. The Roborock S8 will be the first mainstream robot vacuum cleaner to include a dual brush system that isn't made by iRobot. But it isn't just an entirely new brush that comes with the next generation Roborock S series. Let's take a look at all that is new.
Table of Contents
How the Roborock S8 compares to the S7 and S7 MaxV
Price-wise, the Roborock S8 sits between the Roborock S7 and S7 MaxV at launch. Roborock might justify this decision, considering that the base model now includes the same MaxV technology found in the previous generation's pricier models.
| | Roborock S8 | Roborock S7 MaxV | Roborock S7 |
| --- | --- | --- | --- |
| Launch Price | US$750 | US$859 | US$650 |
| AI Object Recognition | ✅ | ✅ | ❌ |
| Rated Power | 69W | 74W | 68W |
| Suction | 6000 Pa | 5100 Pa | 2500 Pa |
| Dustbin Volume | 400 ml | 400 ml | 470 ml |
| Water Tank Capacity | 300 ml | 200 ml | 300 ml |
| Sonic Mopping | VibraRise 2.0 | VibraRise 1.0 | VibraRise 1.0 |
MaxV is what Roborock calls their AI-powered object recognition system. It makes use of two cameras, and it even has its own little torch, so it can see at night. Roborock claims that the system is capable of recognizing objects such as shoes, pet waste, power strips, and cables.
Interestingly, it is once again claimed that the Roborock S8 has a significantly higher suction power than its predecessor, while consuming 5W less. It will be interesting to see how those claims pan out in lab testing. Other than that, they have stuck with the same 5200 mAh battery they have been using for years, which should be able to power the Roborock S8 for up to three hours in quiet mode.
Two brushes are (hopefully) better than one
iRobot's Roomba robot vacuum cleaners have long been the leader in cleaning power, not because they have a stronger motor, but because they use two brushes. That's twice as many as their competitors. This dual brush system, which iRobot had patented, not only help pick up debris, but also ensured fewer hair tangles would occur.
The brushes Roborock and iRobot use are different, as the latter uses rubber nubs, whereas the former uses flaps, so we won't know how the performance compares until the machines are in reviewers hands. One thing, though, can already be asserted: the brushes on the D-shaped iRobot Roomba S9+ are wider than those found on Roborock's offering. This allows it to get them closer to walls, cupboards, and the like.
Even though iRobot doesn't publish any numbers concerning suction power, and Roborock's calculations are questionable at best, I'm assuming that the S8's reported 6,000 Pa will trump its closest competitors. The Roborock S7 MaxV's high suction and single brush system managed to convince many a reviewer, so here's hoping the new system takes it one step closer to perfection.
Roborock S8 docking options galore
Different to the previous generation, the Roborock S8, S8+, and S8 Pro Ultra include slightly different robot vacuum cleaner units and very different docks. The S7 MaxV series was specced equally, whereas this time around each model seems to have varying dustbins and water tanks. The Roborock S8 comes with a 400 ml dustbin and 300 ml water tank, the Roborock S8+ comes with a 350 ml dustbin and 300 ml water tank, and, lastly, the Roborock S8 Pro Ultra comes with a 350 ml dustbin and 200 ml water tank.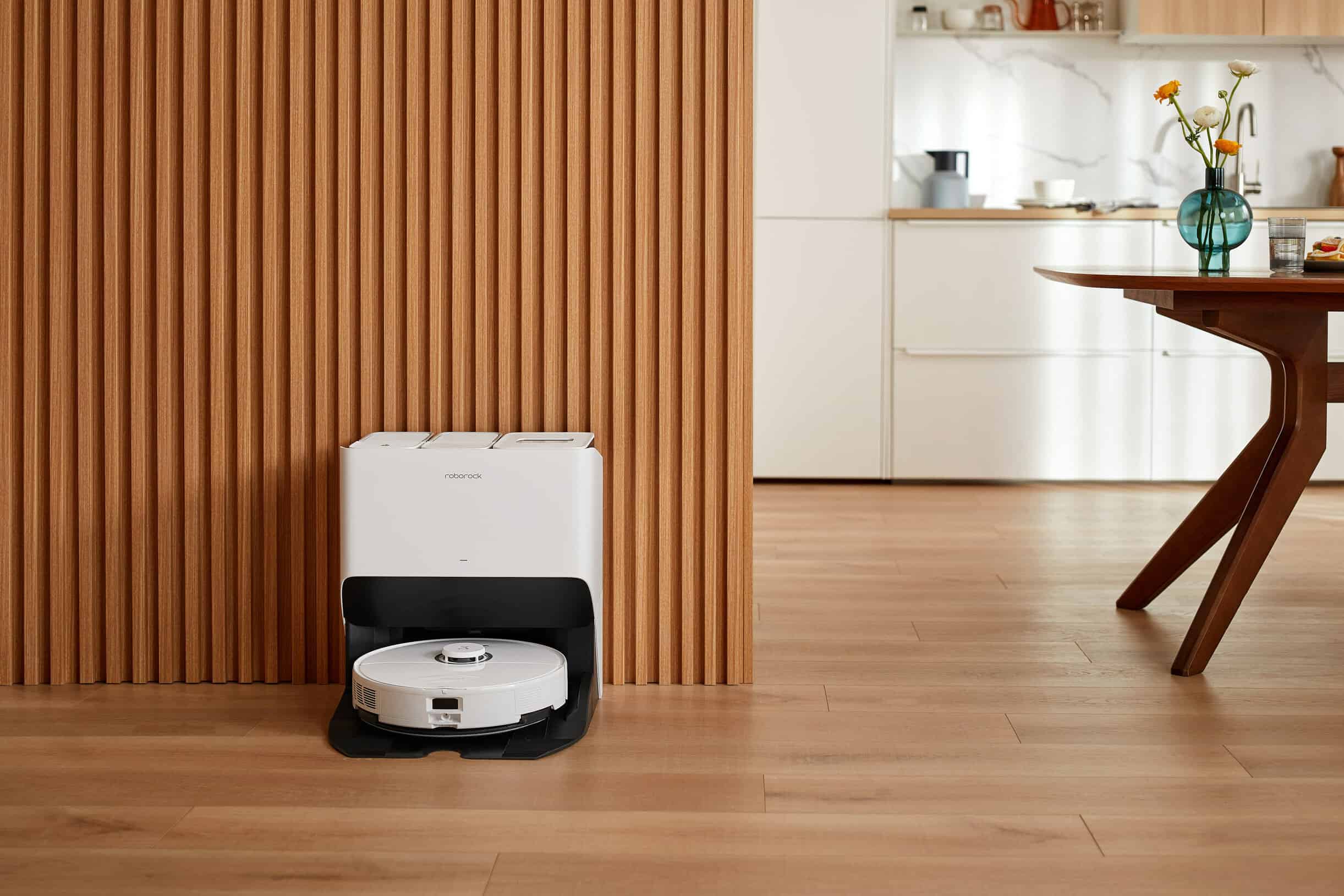 I'm hoping the changes are only to the dustbin and water tank, and not the rest of the unit. If so, Roborock could offer the dustbin or water tank with the sale of each upgraded dock.
The Roborock S8+ includes an auto-emptying dock, that will take care of dirt and debris for at least a month. The Roborock S8 Pro Ultra, which is one of the worst named products I have come across, will empty the dustbin, provide the vacuum with fresh water, clean and dry the mop. All that remains for you to do is to refill the water and clean the filters sporadically. Just as the Roborock S7 MaxV Pro, the Roborock S8 will very much be a hands-off helper in your household.