If you have followed my previous post on how to integrate Google Calendar with Home Assistant, you will likely be eager to actually do something with the integration. The first thing that comes to mind is to display a calendar feed in the Home Assistant Lovelace dashboard.
The Calendar Card does not only work with the Google Calendar integration, but any of the available options. You can use it to display a CalDAV feed or pull tasks from Todoist and Remember The Milk.
Which Lovelace card should I choose?
There are several custom cards to display Google Calendar in the Home Assistant dashboard available. However, most of these are no longer recommended. The Atomic Calendar custom card and (unofficial) Calendar Card for Home Assistant used to be the preferred choice, but both have not been updated for multiple years and are no longer maintained.
An actively maintained fork of the Atomic Calendar is available, however, I recommend you go with the official Calendar Card that comes with Home Assistant. The official card can display your Google Calendar in either a month, day, or list view, and you can add multiple calendars to it.
Configuring the Home Assistant Calendar Card
As an official part of the Home Assistant Lovelace dashboard, the Calendar Card can be fully configured using the UI. There is absolutely no YAML required. Simply edit the dashboard, add a new card, and chose the Calendar Card. You will then see with the following options.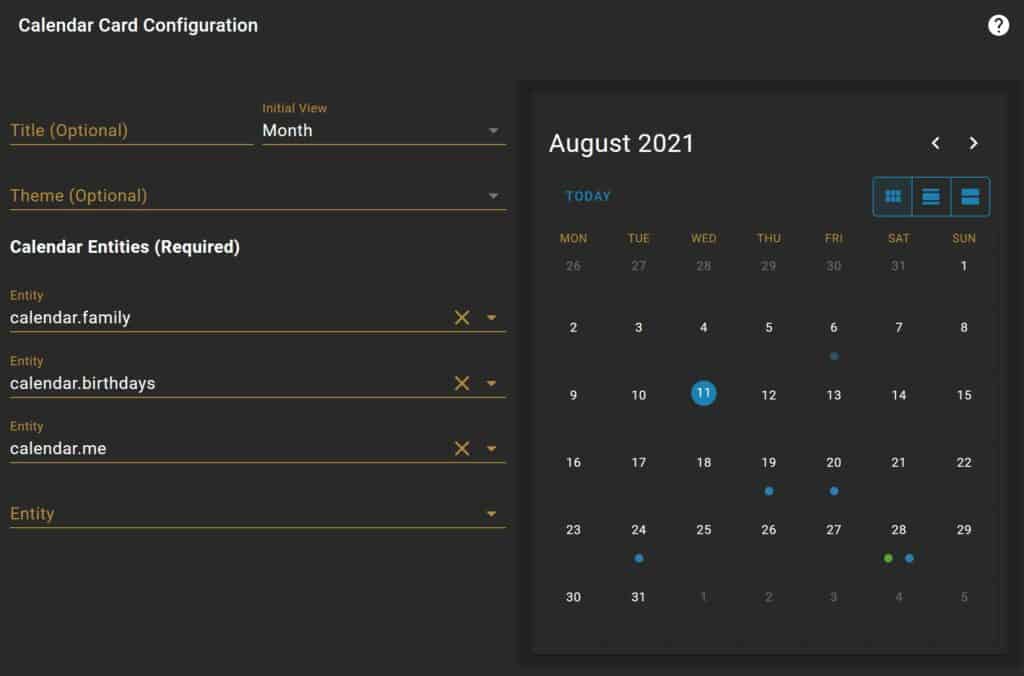 The title is optional and will appear at the top of the card.
The initial view is what Home Assistant will load when you open the dashboard. You can choose between a monthly or daily view, or have your events listed. The view can be changed in the dashboard any time using the three icons in the upper-right corner.
You are required to select at least one calendar entity. The configuration will automatically only display calendar entities, sparing you from having to search for the right one.
Once you save the Calendar Card, it will be added to your dashboard and show your events, depending on the calendar(s) you selected. When you add a new event using Google Calendar, it won't immediately be synced, but should appear within 10-20 seconds.
The month, day, and list view
The Home Assistant Calendar Card has three different views, between which you can switch at any given time: the month, day, and list view. The first two are self-explanatory, and the list view is possibly more frequently described as an agenda view, which displays events for the current week chronologically.