In comparison to well-known brands like Philips, Xiaomi, and Aqara, Gledopto is a lesser-known company that specializes in a wide range of Zigbee products, specifically lights and light controllers. Although not as popular, Gledopto offers some excellent and more cost-effective alternatives to Philips Hue devices. The Gledopto Pro series Zigbee of LED controllers, which I, personally, have a collection of in my home, provide just as much satisfaction at a more reasonable cost when compared to the Philips Hue Lightstrip .
One thing Gledopto doesn't offer is a device-specific hub. Instead, their Zigbee products can be controlled using the Amazon Alexa Echo Plus, the Philips Hue Bridge 2, or Homee. If you are using Home Assistant and prefer a hub, the Philips Hue Hub and its local push ability is the way to go.
Thanks to the open nature of Zigbee, there is also good news for DIY enthusiasts. Both Zigbee2MQTT and ZHA support just about all of Gledopto's products, including the Gledopto Pro series LED controllers. They should also be compatible with the most common alternatives, such as deCONZ and Zigate, but I can't guarantee that.
Table of Contents
Gledopto Pro series LED controllers are the Zigbee 3.0 upgrade we needed
This article provides an updated introduction to the Gledopto Zigbee LED controllers. The previous non-Pro models had difficulty integrating with other devices, but the newer Zigbee controllers can act as routers for other Zigbee enabled devices, allowing for a more seamless and expansive network coverage in your smart home. With the use of mains-powered bulbs, smart plugs and LED controllers as routers, every corner of your home can be connected.
The Pro series of Gledopto Zigbee LED controllers are a newer and improved version, and while they are not officially certified, they do support Zigbee 3.0 and can act as routers in your Zigbee network. For this reason, I recommend only using the Pro models and not the previous versions. You can easily identify the Pro models by checking the model ID, which will have a "P" at the end (for example, GL-C-008P).
A cheap alternative to the Philips Hue Lightstrip
In this article, we will be taking an in-depth look at one line of products in particular: The Gledopto LED Controller Pro, which in my opinion are an excellent and more versatile alternative to the popular (and expensive) Philips Hue Lightstrips. All that while being significantly cheaper.
The Gledopto line-up of Pro series LED controllers can be a bit confusing. There are multiple controllers for different types of LED strips, and those are then again separated into 1ID and 2ID models. With this article, I'm hoping to clear up some confusion surrounding the Gledopto LED strip controllers. Once you know what to buy, I can almost guarantee that you will come away with a more flexible and cheaper alternative to the Philips Hue Lightstrips.
I have multiple Gledopto LED controllers, the RGB+CCT (GL-C-008) variant to be more precise, in use in my home. I have so far not encountered any problems, so I'm happy to recommend them to anyone.
Smart LED strips that aren't individually addressable
All the following Gledopto Zigbee LED strip controllers can only address the LED strip as one unit. It isn't capable of individually addressing LEDs on a strip such as the WS2812B, WS2815, or SK9812. The only effects possible with these LED strips are colour changes and nothing more.
This isn't specific to Gledopto, but all Zigbee LED controllers I have found so far. I don't know whether this is a limitation of the technology, or whether these products are sold to be used as just functional and accent lighting.
The different Gledopto LED controllers explained
When researching Gledopto products, you will find a multitude of seemingly similar controllers which differ only slightly. To make sure you pick the right product, I will explain what each controller does. I will also leave links to where you can buy them. When buying from AliExpress, always make sure you have the correct controller selected and do not forget, the models without a P at the end do not support Zigbee 3.0. It's easiest to use the affiliate links placed in this article.
Also note that when you buy a Gledopto Zigbee LED controller, that is all you will receive. You will have to purchase a power supply (PSU) and LED strips separately. Make sure that your power supply voltage matches that of the LED strip. Gledopto controllers can handle 12V-24V LED strips. I will leave links to compatible LED strips and power supplies underneath each controller's description.
A word on soldering LED strips
You might be thinking that you will have to be able to solder your LED strips. While you can indeed solder them, you by no means have to. You can buy a number of solder-less LED strip connectors on various sites. These function by simply clipping on to the exposed copper pins of the LED strip.
IP30, IP65, and IP67 rating on LED strips
When buying LED strips, you will often be able to choose from varying IP ratings. IP30 strips are not waterproof and should only be used in places where they definitely won't come in contact with water or high humidity.
The other IP ratings you will commonly find are IP65 and IP67. Both are dust-tight (signified by the leading 6). IP67 strips can, in theory, be immersed in water up to 1 meter for 30 minutes. IP65 strips can withstand water jets. I recommend you use these strips in bathrooms and other high-humidity areas. The exact IP rating you should go with depends on how wet you expect them to get.
The higher IP ratings do have one downside, as they are more difficult to work with. When wiring up the strips, you will have to expose the small copper pads to which you will connect the Gledopto controller. IP65 and IP67 strips have quite a thick silicone coating, which will have to be removed with a knife or razorblade first. Be warned, removing that layer will take longer than you expect. IP30 rated LED strips are much easier to work with.
Gledopto 1ID Controller vs. 2ID Controller: An issue no more
Gledopto's non-Pro Zigbee LED controllers, come in two flavours: 1ID and 2ID. A 1ID controller shows up as one light in your Philips Hue (or other) app or Home Assistant. That meant it could be controlled as one light in the same way as a regular Philips Hue light strip.
Gledopto's 2ID Zigbee LED controllers show up as two lights in your app, or as an individual RGB and CCT light in Home Assistant. With 2ID controllers, it is possible to turn on both the coloured and white LEDs on your LED strip simultaneously. This gives you more light output and full control over the colour's saturation. When using voice control (Google Home or Amazon Alexa) this can be a bit frustrating as you need to control two separate lights.
The newer and better Pro series Zigbee LED controller from Gledopto are all 1ID models. The downside to the 1ID controllers is that you can't turn on both the coloured LEDs and the white LEDs simultaneously. But this change does make the selection of a device more straightforward.
Gledopto CCT LED controller GL-C-006P (WW/CW or CCT)
The Gledopto CCT LED controller (GL-C-006P) controller can be attached to 4-pin LED strips, which have two different types of white LEDs: Warm white and cold white (often written as WW/CW or CCT). These LED strips usually have a temperature range from around 3000K to 6500K. You can of course also just hook up a single temperature LED strip and use it as a dimmer, but in that case, the GL-C-009P is the better choice.
Sale
It is not necessary to use all outputs on the Gledopto GL-C-006P. As in the example linked below, there are CCT LED strips that only use three pins. In this case, you would simply leave one of the V+ outputs empty.
The GL-C-006P is also capable of dimming the LED strip and controlling its temperature. In my opinion, this is one of Gledopto's more useful devices. Not every strip has RGB LEDs, but it is nice to be able to adjust and LED strip's temperature and brightness throughout the day, for example using adaptive lighting in Home Assistant.
Gledopto RGBW LED controller GL-C-007P (RGBW)
The Gledopto GL-C-007 RGBW controller controls red, green, and blue LEDs, and has an extra pin used to control a single white LED. You will be able to find LED strips that have either a warm white or cold white LED, though the former is more common.
The Gledopto GL-C-007 controller, when used with a compatible LED strip, offers the flexibility of both functional lighting (white) and accent lighting (coloured). This controller is available in two options, a 1ID or 2ID. However, I would recommend the GL-C-008 controller over this one, as it provides the added benefit of the full white spectrum for lighting.
Gledopto GL-C-008P (RGB+CCT)
Undoubtedly, the most versatile Gledopto LED controller is the GL-C-008P. This controller has 3 pins for RGB LEDs and two extra pins for warm white and cold white LEDs. Using the GL-C-008P, or RGB+CCT controller, you can have your LED strip display the full white spectrum for everyday lighting, or you can turn on the RGB lights for mood and accent lighting (party time!).
Gledopto RGBCCT LED controller GL-C-008P
RGB+CCT: Capable of 16 million colours with RGB LEDs and 2000K to 6500K with warm/cold white LEDs.
Zigbee 3.0: Maximizes compatibility and allows the device to function as a router.
Maximum current: 5A
Voltage: DC12V-24-36-48-54V
Gledopto sells its own 24V RGB+CCT LED strip to go with this controller. However, I don't particularly like it because the RGB and white LEDs aren't on the same chip, making it less dense. Only half of the LEDs will be turned on when in RGB or CCT mode. And as the newer Pro LED strip controllers from Gledopto don't support 2ID, this will make individual LEDs spaced quite far apart.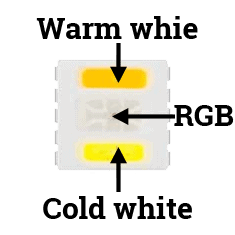 A much better alternative is the 12V RGB+CCT LED strip from BTF-LIGHTING. These have so-called 5IN1 chips, where the RGB and white LEDs are placed on the same chip. BTF-LIGHTING is generally a good place to buy your LEDs.
Sale
BTF-LIGHTING 5in1 RBGCCT LED strip
Colours: Red, green, blue, warm white (3000K), and cold white (6500K) LEDs in a single chip
Power: DV12V, 6W~30W/m
Density: 60 LEDs/m (300LEDs/roll)
Usage: Perfect for functional, as well as accent lighting
Gledopto LED Dimmer (GL-C-009P)
The Gledopto GL-C-009P is a dimmer specifically designed for LED strips that do not have RGB or colour temperature control capabilities. It can be utilized to upgrade already installed LED strips. Keep in mind that this controller may not always be readily available for purchase, but the GL-C-006P can be a suitable alternative.