Latest update: The integration is back, but with limitations.
Wyze has allowed the development of the Home Assistant custom component to continue, but not without any serious restrictions.
Wyze has a very interesting line-up of bulbs, cameras, and sensors that not only look good but are also affordable and sport similar features to more expensive options. Unfortunately, Wyze has never been open to third-party integrations, such Home Assistant. There isn't even an official API for developers to hook in to. And while Wyze has been promising to include RTSP in the Wyze Cam 3's firmware, it still hasn't made an appearance.
Until recently, an unofficial Home Assistant integration, using an unofficial Wyze API, allowed users to control and get information from their bulbs, switches, cameras, motion sensors, and locks. But as is the case with many unofficial APIs, Wyze has decided to put a stop to it. Due to Wyze now rate-limiting requests to the service that the integration relied on, it is likely that it will cease to function.
Why Wyze stopped the Home Assistant integration
While I obviously don't have any insight in to why Wyze did what they did, I am free to speculate. I have two possible explanations, and they boil down to essentially the same thing: Wyze want you to stay in their ecosystem. And their ecosystem includes the Wyze app.
The unofficial API was using an undocumented Wyze service, meaning that it essentially cost Wyze, every time someone used it. The custom component for Home Assistant essentially reverse engineered the Wyze app, and couldn't function without access to Wyze's online services. Wyze would obviously prefer for you to use the app, as it allows them to track your usage and advertise other devices. They even have a direct link to their shop in the bottom navigation.
To Wyze's defence, the app also allowed for firmware updates. If a user were to only use the unofficial Home Assistant integration, they might not be informed about crucial firmware updates, which might put their smart home at risk.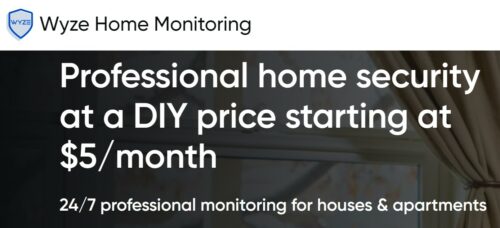 The second explanation I have for this decision is that Wyze wants to sell their customers their services. The Wyze Home Monitoring service costs $5/month and uses the Wyze Entry Sensor, Motion Sensor, and Sense Keypad to detect intruders. For another $1.99/month, customers can subscribe to Cam Plus, which unlocks more functions for the Wyze Cam and Wyze Video Doorbell. If you integrate Wyze cams with a custom NVR or have built a home monitoring system with Home Assistant, there is no need to subscribe to either service.
What are the alternatives to Wyze?
Wyze is more and more become a vendor whose devices you don't actually own. You are completely reliant on Wyze keeping their services running, or else you will be in possession of nothing more than e-waste. With that in mind, I would recommend you buy devices that you actually own. Devices with local access and no need for cloud services.
Reolink: Easy to use but with advanced features
Reolink cameras have long been a favourite in the Home Assistant community due to their ease-of-use, while still offering advanced features. If using the Reolink app, you will have a similar experience to what you would with Wyze. But numerous Reolink cameras not only support RTSP, but also ONVIF. Both the E1 Pro and E1 Zoom support RTSP, while the RLC-410W-5MP supports ONVIF.
Night vision
Infrared night vision (12 m)
Infrared night vision (12 m)
Infrared night vision (30 m)
Infrared night vision (30 m)
Connectivity
2.4GHz and 5GHz dual-band Wi-Fi
2.4GHz and 5GHz dual-band Wi-Fi
PoE (Single cable for data and power)
PoE (Single cable for data and power)
SONOFF GK-200MP2-B: Ethernet and Wi-Fi in one
The SONOFF GK-200MP2-B is a relatively new entry, but it stands out thanks to its support of the RTSP protocol and the option of using Wi-Fi or Ethernet. As you might have come to expect with SONOFF, the camera is one of the cheaper options available.
By making use of the SonoffLAN custom component for Home Assistant, you can also control the PTZ function (pan, tilt, and zoom) right from the Home Assistant dashboard.
Compared to the pricier Reolink options, the SONOFF has a lower resolution (1080p), only 15 m night vision, and will output only a single RTSP stream.