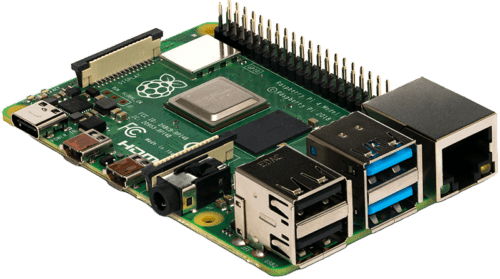 Raspberry Pi 4 Model B
Relase date: June, 2019
If you're looking for a powerful, versatile, and easy-to-use single board computer, the Raspberry Pi 4 is an excellent choice. With its quad-core processor, up to 8GB of RAM, and a range of connectivity options including Gigabit Ethernet, dual-band Wi-Fi, and Bluetooth 5.0, the Raspberry Pi 4 is capable of handling a wide range of tasks. With its low price and endless possibilities, the Raspberry Pi 4 is a must-have for anyone interested in computers and technology.
Disclosure: This post contains affiliate links. If you click through and make a purchase, I will earn a commission, at no additional cost to you. Read my full disclosure here.
Raspberry Pi 4 Model B guides
This detailed guide will show how to install Home Assistant on a Raspberry Pi. From flashing the SD card to finding the correct IP, everything is included.
Read article
The Raspberry Pi is a popular device for newcomers to run Home Assistant on. It's small, cheap, quiet, and doesn't use much electricity.
Read article