The Xiaomi Mi Robot Vacuum Mop 1C was my first foray into the world of automated household helpers. After over a year of owning this little white machine, and only recently replacing it with the more advanced ILIFE A11, I want to give you my thoughts on it so that you can make an informed purchasing decision.
As with all of my reviews, I am not in favour of giving any device a rating in the form of numbers. What does it mean to you, if I were to rate this robot vacuum at 7,5/10 and another one at 8,5/10? What is important for me, might not be important to you. I do try to keep my thoughts to the point, but this will be an in-depth and long-term review.
I am writing this review without Xiaomi's knowledge. I was not provided the Mi Robot Vacuum Mop 1C by Xiaomi, or any retailer. Nobody will have access to the contents of this review before publication, and I am under no obligation or incentive to write either positively or negatively.
Table of Contents
Verdict of the Xiaomi Mi Robot Vacuum Mop 1C
The Xiaomi Mi Robot Vacuum Mop 1C is a great budget option, which will deliver great results on hard floors, and acceptable results on carpets. Even though the name hints at its mopping capabilities, the function is not much more than a gimmick. It will moisten your floors, but isn't capable of removing stains.
Despite the low price, the Xiaomi Mi Robot Vacuum Mop 1C offers mapping and zoned cleaning. Unfortunately, it doesn't support multiple floors and at this point it is unlikely that it ever will. Despite Xiaomi offering an even cheaper model, the Xiaomi Mi Robot Vacuum-Mop Essential, I recommend you go for the Mi Robot Vacuum Mop 1C if possible.
The good
Strong suction at a decent price point.
Builds a map for efficient and zoned cleaning.
Easy integration with Home Assistant and Google Assistant
The bad
The mopping feature is basically useless.
Sometimes has trouble finding the dock.
Needs to hit objects to detect them.
The ugly
Can get stuck underneath objects due to missing sensors.
Will move light objects without detecting them.
Uses an actual camera for navigation.
About this Xiaomi Mi Robot Vacuum Mop 1C review
This review of the Xiaomi Mi Robot Vacuum Mop 1C was written after owning it for over a year. Before replacing it, I ran it on an almost daily basis. My floors are all hard, though there is a carpet in the living room, where I placed the robot vacuum cleaner, and in the entrance hallway.
An essential factor to consider is that the Mi Robot Vacuum Mop 1C is at the lower end of decent robot vacuum cleaners when considering the price. It's easy to critique this device for not having LiDAR navigation or better mopping, but at this price point you just can't expect that. Even older models, such as the Roborock S5 Max, still cost ~US$100 more. For that reason, I will be reviewing the Mi Robot Vacuum Mop 1C as a ~US$200 machine. If you're lucky, you can pick it up for even less than that. It is currently on sale for US$175 in the Swiss Xiaomi store (that's including taxes because we logically list the price as what you pay).
First impressions of the Xiaomi Mi Robot Vacuum Mop 1C
Being a budget robot vacuum cleaner, you can't expect many extras in the box. In fact, all you get is the vacuum itself and all the parts it needs:
The dust box with a 600 ml capacity.
The side brush, which pushes dirt and dust towards the centre of the Mi Robot Vacuum Mop 1C's body.
The main brush that does the actual cleaning.
The 200 ml water tank and a microfiber brush to go with it.
There are no spare parts or accessories. What you do notice is just how flat the Mi Robot Vacuum Mop 1C is. This is because it doesn't have the commonly used LiDAR array sitting in a pod on top of it.
First clean with the Xiaomi Mi Robot Vacuum Mop 1C
As you should with any new robot vacuum cleaner, I ran the Mi Robot Vacuum Mop 1C with as few obstacles as possible. This helps it build a perfect map of the floor during its first clean. And that it did. Despite not having a LiDAR sensor, the Mi Robot Vacuum Mop 1C managed to build a map without missing any spots. However, the way it builds this map, might be of concern to you.
The Xiaomi Mi Robot Vacuum Mop 1C's camera
Despite the Mi Robot Vacuum Mop 1C's stellar performance, it might not be the perfect choice for you, if privacy is of utmost importance. The black dot you see beneath the only two buttons on its body is a camera. It records images using this camera, of features it sees, to help it know where it is located. And if you are standing next to it, it will record you too. I am not claiming that Xiaomi does anything nefarious with these images, but you should definitely be aware of this fact when making a purchasing decision.
There is one more downside to the use of a camera for navigation: it can't see in the dark. Just like any camera, the Mi Robot Vacuum Mop 1C will struggle in low-light. It will still do its job and clean the floors, it just won't be quite as efficient as it is significantly dumber without being able to see. LiDAR does not have this issue, as they actively send an invisible laser across rooms and measures the time it takes for it to return. The laser is visible to the receiving end in complete darkness and full brightness.
How the Xiaomi Mi Robot Vacuum Mop 1C navigates and its performance
The camera isn't the only navigation feature the Mi Robot Vacuum Mop 1C possesses. There are cliff sensors on the bottom of the device that will prevent it from falling down any staircases. Next, it has an array of IR sensors hidden behind the (as I call it) Geordi La Forge visor. Just like a smartphone uses these to detect whether it is heald up against your face, the Mi Robot Vacuum Mop 1C uses them to detect walls and other large objects. Finally, there's the bumper, which stretches covers half of the robot vacuum cleaner's body. As the name suggests, this gets triggered whenever it bumps in to an object.
While the array of sensors might sound impressive, it is imperfect in real-world usage. The IR sensors will only pick up large objects such as walls and sofas. This allows it to slow down, before it crashes into them. What it doesn't pick up are smaller objects, such as the legs of tables and chairs. Unfortunately for my kids, it also won't pick up most toys and, as we've come to find out, these will frequently be moved about because they aren't heavy enough to trigger the bumper. Objects that are just high enough to avoid the bumper might also trap the robot vacuum cleaner without it being able to escape. In my case, the toilet bowl seems to be the perfect height to catch a Xiaomi Mi Robot Vacuum Mop 1C, as I have frequently had to save it from its peril.
If you live in a household with many smaller objects on the floor and can't be bothered to clear them before starting the robot vacuum cleaner, the Xiaomi Mi Robot Vacuum Mop 1C is not for you. In that case, your solution might be to go with an option that features an AI-powered object-avoidance camera on the front of the device. Unfortunately, these come at a much higher cost and examples include the Roborock S7 MaxV series and iRobot Roomba j7+ .
Cleaning performance
If numbers say anything to you, the fact that this robot vacuum cleaner has a suction of 2500 Pa will be relevant. What this number does allow us to do, is to compare it with similarly priced robot vacuum cleaners:
The equally inexpensive Roborock E4 maxes out at 2000 Pa, while the pricier Roborock E5 equals it.
The eufy by Anker Robovac G10 Hybrid, which also costs more in my country, is significantly less powerful, maxing out at 2000 Pa.
The much pricier WYZE Robot Vacuum with LIDAR Mapping Technology can produce 2100 Pa of suction.
It is these comparisons that make me recommend the Xiaomi Mi Robot Vacuum Mop 1C. In my opinion, it does what a vacuum cleaner should: it cleans effectively thanks to the high suction. While it does miss the LiDAR sensors others might have, I'm glad Xiaomi skimped on it and not the actual performance when vacuuming.
Vacuum cleaning
Mopping
Battery
The Xiaomi Home app is chock-full with features
One thing I can't criticize about the Xiaomi Mi Robot Vacuum Mop 1C is the app it uses: Xiaomi Home. Xiaomi doesn't just use this app for their robot vacuum cleaners, but all kinds of smart home appliances from Xiaomi, such as their highly regarded air purifiers. I have not experienced any glitching or freezing when using the app, and it is buttery smooth when in operation. I control the Mi Robot Vacuum Mop 1C using a OnePlus 6 Android smartphone, which isn't the newest option on the market, but is comparable to current higher mid-range phones.
I will preface any screenshots of the app with the fact that my Mi Robot Vacuum Mop 1C now lives in the cellar. Eventually, my lab will also be included in the rooms it cleans, but currently it is too messy to let it anywhere near it. Previously it was on the main floor of the house, where it managed to build and navigate a perfect map.
Layout and user interaction of the Xiaomi Home app
The app's layout and interaction with it is near perfect. When selecting the Mi Robot Vacuum Mop 1C, you are greeted with the map where you can quickly select rooms by pressing on any of its area or start a full clean with a single button. A swipe up from the bottom reveals settings for the suction and water flow. In the settings, you set up a schedule for the Mi Robot Vacuum Mop 1C to automatically follow and check on the consumables.
What might be more interesting to you are the mapping options. Foremost, you need to decide whether you want to use maps, as these are uploaded to Xiaomi's servers. Keep in mind that your Wi-Fi will also reveal where you live, and make an informed decision before you enable anything. You have the option to divide, merge, and name rooms, as well as setting up virtual walls and restricted areas.
Limitations of the Xiaomi Home app and Mi Robot Vacuum Mop 1C
What the Xiaomi Mi Robot Vacuum Mop 1C can't do is map multiple floors. I believe this is an artificial limitation imposed by Xiaomi, as its hardware is comparable to other robot vacuum cleaners that manage to store multiple maps. However, this doesn't mean that it will refuse to clean an unmapped area. It will still clean as you'd expect, it just won't be as efficient, as it is basically acting as a dumb robot vacuum cleaner and build a map as it goes along.
Integrating the Xiaomi Mi Robot Vacuum Mop 1C with your smart home
The Xiaomi Mi Robot Vacuum Mop 1C integrates with the Google Assistant and Amazon Alexa, and it has support for Siri Shortcuts. As I don't own of the former two, I can only comment on the Google Assistant.
The Xiaomi Home integration with the Google Assistant is annoyingly sparse when it comes to vacuum cleaners. It essentially boils down to starting and stopping the Mi Robot Vacuum Mop 1C. What I would expect from a robot vacuum cleaner that supports mapping and zones is the option to have it clean a certain zone on command.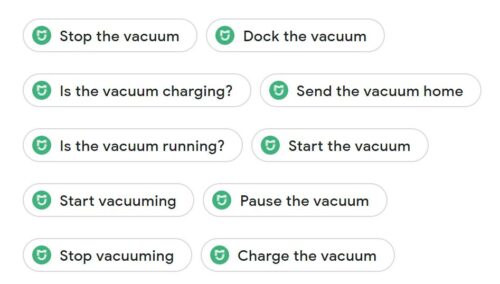 I couldn't complete this review without talking about the Xiaomi Mi Robot Vacuum Mop 1C integration with Home Assistant. The Xiaomi Miio integration does not support this robot vacuum, though there are ways of having Home Assistant control it. I will be writing a follow-up article on how to do just that.